As the summer comes to an end, we prepare for school to start up again. For many, they onto bigger and better things in college. College can be an exciting time, new friends, new classes, and the first time away from home.  
When we think about college, we don't think about things like gambling but, we should. It is a growing concern, and one that should be talked about. With the increase in access and availability of gambling it can become a problem for some. In particular, the rise of mobile sports betting, online gambling, and gaming are more accessible than ever before.  
Do College Students Even Gamble?   
The answer is yes, college students do gamble. On college campuses, researchers estimate that 75% of college students gambled during the past year, with 18% gambling on a weekly basis. For some, this gambling is not recreational, with up to 6% of college students reporting a serious gambling problem. This percentage is higher than the national average, according to the National Council on Problem Gambling.   
Why do College Students Gamble?  
There can be a variety of reasons why college students gamble. College can be a stressful time, with new anxieties and worry  worries. Gambling may seem like an escape from these worries.  For some, it may be financial, and can be looked at as a way to make money. Many college students will start receiving offers for credit cards and have easier access to money.  
Gambling can also be seen as a way to socialize and make new friends. In addition, many college campuses sponsor events such as casino nights and poker tournaments. While for many this is not a problem, for some it can trigger a much larger problem with gambling.  
Increase in Access  
We know that with an increase in access and availability comes the potential for more problems. Recently, in New York State the opportunities to gamble have increased with the expansion of mobile sports betting. As always, this may not be a problem for all, but the increase in availability means that more people may be incentivized to start gambling.  
Research shows that lotteries, card games, raffles, sports betting and fantasy sports are the most frequently chosen gambling activities by college students. When we pair this with the increase in access we know it could cause big problems.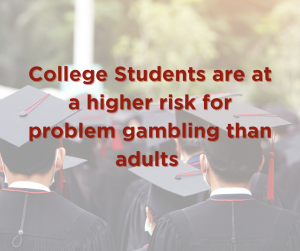 What are the Warning Signs  
Problem gambling can be easy to hide. It is called the hidden addiction. However, there are warning signs. Specifically in college students, warning signs can look like:  
Distraction from schoolwork, employment, and assignments. 
Isolation from friends and family. 
Decreased enjoyment from other activities.  
Increased anxiety and stress about gambling.  
Gambling taking priority over other activities. 
What can we do to support college students  
Gambling is called the hidden addiction because it is often not talked about. Gambling can be very isolating, and people often feel alone. Talking about what gambling is and how it can cause problems for some. Normalize that reaching out for support is okay.  
Most importantly, know that help is available. There are many resources for family members and college students. Reach out to your local Problem Gambling Resource Center today to see how we can help. Visit NYProblemGamblingHELP.org.